Golden Powder von The House of Oud
Holzig und süß
präsentiert sich Golden Powder, einer der attraktiven Unisexdüfte von The Hous…
Mehr erfahren!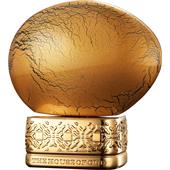 Golden Powder Unisexdüfte von The House of Oud
Holzig und süß präsentiert sich Golden Powder, einer der attraktiven Unisexdüfte von The House of Oud, die 2016 erfolgreich lanciert wurden. Handgefertigte Flakons in einem überaus ungewöhnlichen Design sprechen Ihre Blicke an und fordern Sie auf, neugierig nach dem Meisterstück zu greifen, das von zwei leidenschaftlichen Duftliebhabern, Andrea Casotti und Mohammed Nashi, kreiert wurde. Golden Powder wurde von jenem mystischen Ende des Tages inspiriert, an dem sich die Sonne langsam auf das heiße Land senkt und dabei feinste Staubpartikel glänzen wie aufgewirbeltes Gold. Sie wecken ein Versprechen auf eine sinnliche Nacht, die in ihrer Leidenschaft ganz eigenen Regeln folgt. Unisexdüfte von The House of Oud sind ebensolche Meisterwerke wie die einzigartigen Flakons, in denen sie Sie erreichen.
Intensiv und faszinierend - so geheimnisvoll ist Golden Powder
Warm, sinnlich, intensiv. Es gibt durchaus Stimmen, die das Eau de Parfum Spray als reines Damenparfum ansehen. Doch auch Herren lieben diese ungewöhnliche Kombination, die besonders am Abend dazu auffordert, getragen zu werden. Selten beginnen Unisexdüfte direkt mit Muskat und Zimt. Ihnen folgen Papyrus, Virginiazedern, Guajakholz und Sandelholz. Außergewöhnliche Akkorde präsentiert Ihnen The House of Oud auch in der Schlussnote. Hier treffen Moschus, Vanille und französisches Labdanum auf Tabakblüten und Cumarin. Das Magische an diesem Eau de Parfum Spray ist, dass es seine ganze Kraft erst nach und nach freigibt, wenn sich die verschiedenen Komponenten auf Ihrer Haut erwärmen. Dann wird der Unisexduft zu einem unvergleichlichen, sinnlichen Erlebnis, das Sie unbedingt teilen müssen und problemlos teilen können. Denn wie alle Unisexdüfte von The House of Oud hält auch Golden Powder unglaublich lange.