+ZUGABE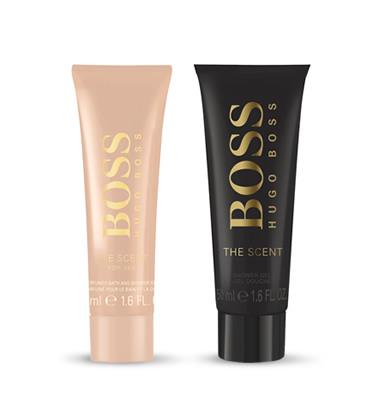 Ihr Geschenk
Zu Ihrer HUGO BOSS Bestellung schenken wir Ihnen ein BOSS THE SCENT FOR HER oder ein BOSS THE SCENT FOR HIM Shower Gel 50 ml!
Jetzt entdecken
Auswahl erfolgt zufällig und nur solange der Vorrat reicht.
Hugo Boss Parfum ist die Duftlinie aus dem Hause Hugo Boss, einer deutschen Traditionsmarke, die im Jahr 1924 in Metzingen gegründet wurde. Das Unternehmen wurde ursprünglich als Produzent von Berufs- und Arbeitskleidung gegründet, hat sich mittlerweile aber im gehobenen und Luxussegment etabliert. Hugo Boss vertreibt in verschiedenen Linien Mode für Damen, Herren und Kinder, darunter Accessoires und freizeittaugliche Looks. Die Düfte der Marke strahlen eine stilsichere Eleganz und treffsichere Abwechslung aus, die sowohl ins Büro als auch zu besonderen Anlässen und in den Alltag passt.
Stilsichere Düfte und Mode aus Deutschland
Weltweit betreibt Hugo Boss mehr als 600 eigene Boutiquen und Geschäfte, in denen vorzugsweise Mode vertrieben wird. Oftmals wird jedoch auch eine Auswahl der aktuellen Düfte geführt. Das Unternehmen ist vorwiegend für seine Männermode bekannt, die mehr als 4/5 des Umsatzes ausmacht. Das Hugo Boss Bottled Parfum ist ebenfalls für den modernen Mann bestimmt. Es existiert in verschiedenen Ausführungen: klassisch, Sport und Night. Der Duft wurde in einigen zusätzlichen Produkten aufgegriffen, beispielsweise Duschgels, After Shaves und Deodorants. Das Hugo Boss Parfum ist im mittleren bis gehobenen Preissegment gehalten und orientiert sich an Männer, die gern auf Produkte mit Tradition und hoher Qualität vertrauen.
Der richtige Duft für jedermann
Hugo Boss Bottled ist eine der Kreationen, die zu jeder Gelegenheit genutzt werden kann - insbesondere durch die unterschiedlichen Interpretationen. Der Duft gilt mittlerweile als Klassiker und Vorzeige-Hugo Boss Parfum. Er kommt in einer einfachen, dennoch aber wirksamen Aufmachung und wurde mit dem prägnanten BOSS-Schriftzug verziert.
Hugo Boss Parfum
Seit einigen Jahren hat das Unternehmen seine Produktpalette erweitert. Ob Schuhe, Kleinlederwaren, Reisetaschen oder Brillen, Parfüms und Kosmetik, die Marke HUGO BOSS ist weltweit ein Begriff. Im Jahr 1885 wurde Hugo Ferdinand geboren. Während des ersten Weltkrieges gründete er dann seine eigene Firma, die Hugo Boss Schneiderei. Während des 2. Weltkrieges etablierte sich das Unternehmen schließlich zu einer weltbekannten Marke für Sport- und Berufsbekleidung. Seit geraumer Zeit hat das Unternehmen seine Produktpalette erweitert und so findet sich auch eine Anzahl einzigartiger Duftkreationen in dem Sortiment wieder.

BOSS Orange Women und BOSS Orange Men überzeugen mit einem intensiven, kreativen und unwiderstehlichen Duft. Ebenso wundervoll kreiert sind die Variationen BOSS Orange Sunset, BOSS in Motion White Edition sowie BOSS Orange Man Fresh. Für die kreativen Männer wurde HUGO Red erschaffen. HUGO Red unterstützt und begleitet auch beim Grenzen überschreiten, um Neues auszuprobieren. HUGO Deep Red hingegen, kreiert für die selbstbewusste, junge Frau von heute, provoziert leidenschaftlich, dynamisch und völlig in Rot. Verbringen Sie Ihre Tage und Nächte auch in Begleitung von HUGO BOSS JOUR Pour Femme sowie HUGO BOSS NUIT Pour Femme. Diese beiden Düfte sind wohlriechend und zugleich sehr pfiffig in ihrer Zusammensetzung. Begleiten Sie Tag oder Nacht mit schlichter Eleganz und gleichzeitig einem betörendem Duft. Vorallem BOSS NUIT Pour Femme ist wie das "kleine Schwarze" für jeden Anlass und für mutige Frauen, die auch für nächtliche Abenteuer offen sind. Eine der weiteren BOSS Black Damendüfte ist MA VIE Pour Femme, dessen Duftkreation Weiblichkeit und Selbstvertrauen ausstrahlt. Inspiriert wurde der Duft durch persönliche, kleine, eigene Glücksmomente. Es lohnt sich sehr, die Düfte von HUGO BOSS auszuprobieren und bei einer wunderbaren Auswahl seinen eigenen Favoriten zu entdecken.