Osmanthus von Acqua di Parma
Acqua di Parma Osmanthus ist einer der 2019 lancierten Unisexdüfte des exklusiven italienischen Parf…
Mehr erfahren!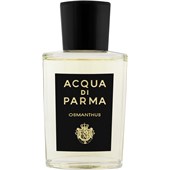 Acqua di ParmaOsmanthusEau de Parfum Spray
GP: 176,95 €* / 100 ml
Osmanthus Unisexdüfte von Acqua di Parma
Acqua di Parma Osmanthus ist einer der 2019 lancierten Unisexdüfte des exklusiven italienischen Parfumhauses. Er ergänzt die Duft-Linie 'Signatures of the Sun', die besonders kostbare Inhaltsstoffe in einer strahlend sonnigen Komposition zur Geltung bringt. Nach Leder, Oud, Sandelholz, Ambra, Vanille und Camelie ist dieses fruchtige, florale Parfum den seltenen weißen Blüten des immergrünen Osmanthus-Baumes gewidmet. Ihr betörender, charaktervoller Duft ist besonders tief und reichhaltig. Er vereint in sich Zartheit, Sinnlichkeit und unwiderstehliche Eleganz. Das Parfum lässt von glitzernden Sonnenstrahlen in den taufrischen, duftenden Wäldern Südostasiens träumen.
Die Eleganz kostbarer Blüten
Eindrucksvolle Eleganz und sonnige, italienische Leichtigkeit sind das Markenzeichen der Unisexdüfte des Labels Acqua di Parma. Das Parfum Osmanthus demonstriert diese Linie auf faszinierende Weise. In der Eröffnung wird ein zarter, an Orangenblüten erinnernder Akzent von Neroli-Öl durch eine Essenz von der saftigen, grünen Mandarine aus Sizilien frisch-spritzig intensiviert. Moschusartige, würzige Facetten einer Essenz aus Ambrette-Samen umrahmen in der Herznote einen Akkord von anmutiger, taufrischer Pfingstrose. Eine feine Nuance von rosa Pfeffer gestaltet das Dufterlebnis dezent prickelnd.
Im Fundament des außergewöhnlichen Parfums von Acqua di Parma kommt endlich die Hauptperson der Komposition zu Wort. Die Basis wird getragen vom sinnlich-süßen Duft der Osmanthusblüte, der in den letzten Jahren zu einer wahren Kult-Note avanciert ist. Es gibt kaum eine Luxus-Parfumhaus, das diesen betörenden Nuancen keinen besonderen Duft gewidmet hat. Ein Hauch von erdig-holzigem Patschuli lässt Acqua di Parma Osmanthus, einen der aktuell besonders erfolgreichen Unisexdüfte, beeindruckend elegant ausklingen. Dies ist eine wunderbare olfaktorische Interpretation einer kostbaren Blüte.