To Be Camouflage von Police
Zum Verstecken viel zu schade: Das Parfum
To Be Camouflage von Police
kommt in einem Totenkop…
Mehr erfahren
To Be Camouflage Herrendüfte von Police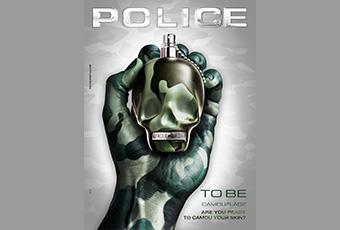 Zum Verstecken viel zu schade: Das Parfum To Be Camouflage von Police kommt in einem Totenkopf-Flakon daher, der sich im Camouflage-Look präsentiert. Silbern hebt sich das Markenlogo vom Schädel in Tarnfarben ab. Das rockige Design hat das italienische Modelabel Police zum Markenzeichen seiner Herrendüfte gemacht. Das maskuline Parfum erschien im Jahr 2015 und vereint kühle, würzige Duftnoten mit dynamischen und warmen Aromen. Cool, sexy und mit viel Glamour soll der Mann von heute daherkommen - To Be Camouflage möchte der ideale Duft dafür sein. Das Parfum wendet sich speziell an trendbewusste Herren zwischen 18 und 35, die außergewöhnliche Herrendüfte genauso lieben wie angesagte Mode.
Würzige und dynamische Duftnoten für den Herrn
Die frischen Aromen von Zitrusfrüchten, Äpfeln, Minze, unterstützt von würzigem Kardamom, bilden die Kopfnote des Parfums Police - To Be Camouflage. Die Herznote vereint die warmen und würzigen Aromen von Lavendel, Zimt, Veilchen, Rhabarber und Muskat mit frischen Ozon- und Solarnoten. Die Basis bildet eine edle Kombination aus Orangenblüten, Vanille, Tonkabohnen, Vetiver, Amberwood und Kaschmirholz. Frische und dennoch würzige Herrendüfte wie dieser sind ein idealer Begleiter für den Tag, mit ihnen setzen Herren aber auch in der Nacht Akzente. Während der Flakon optisch für Aufsehen sorgt, machen Herren mit dem fein abgestimmten Duft auf sich aufmerksam.