Rose in Wonderland The Contemporary Collection von Atkinsons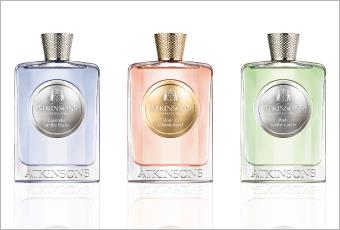 Einige wenige Spritzer vom Rose in Wonderland Parfum reichen schon aus, um Frauen auf eine aufregende Reise durch das Wunderland zu schicken. So zumindest mutet der prägnante Atkinsons Duft aus der The Contemporary Collection schon nach einigen Minuten an, wenn er seine sehr sanften und floralen Noten auf der Haut versprüht. Die Rose in Wonderland Kreation ist eine Neuerscheinung aus dem Jahr 2014 und kommt in einem Flakon in Zartrosa, welcher mit goldenem Aufdruck und passender Verschlusskappe perfektioniert wird. Dieser feminine Eindruck wird durch den Duft nur noch weiter unterstützt, denn dieser wirkt sehr zart, sanft und immer ungemein freundlich.
Eine Reise durch das Wunderland der Düfte
Das Atkinsons Parfum baut sich rund um die eindeutige Wirkung der Rose auf, wobei diese so eindrucksvoll kombiniert wird, dass sie sehr geerdet, stark und unverkennbar wirkt. Dieser Duft aus der The Contemporary Collection Serie kann kaum guten Gewissens mit anderen Rose-Düften verglichen werden, denn die zarte Blume wird hier völlig neu interpretiert und auch kombiniert. In der Kopfnote ist ein wirkungsvolles Duo für den Auftakt verantwortlich. Die Rose wird hier mit der schwarzen Johannisbeere kombiniert, um auf diese Weise fruchtige Akkorde mit sehr zarten und floralen Nuancen in Kontrast zu setzen.
Eine einzigartige Rose mit ebenso einzigartiger Wirkung
Das Rose in Wonderland Parfum aus dem Hause Atkinsons geht in der Herznote direkt zur nächsten Rose über. Diesmal wird eine in der Provence gepflückte Rose mit Geranium vermischt, wodurch die florale Wirkung der Kreation aus der The Contemporary Collection Serie noch weiter unterstützt wird. Die Basisnote verzichtet dann ausnahmsweise auf die Rose, nutzt dafür aber warme und natürliche Duftakkorde. Ein fester Rahmen aus Ambra umhüllt hier Vetiver, um diesem Duft einen perfekten Abschluss zu ermöglichen. Das Ergebnis ist ein femininer, unverkennbarer und unglaublich eleganter Damenduft.

Rose in Wonderland von Atkinsons