Bestseller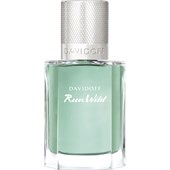 DavidoffRun Wild For HimEau de Toilette Spray
GP: 63,90 €* / 100 ml
Düfte von Davidoff
Inspiriert von den Ozeanen und Naturwundern gibt DAVIDOFF Männern und Frauen bereits seit 30 Jahren …
Mehr erfahren!
Davidoff Düfte
Inspiriert von den Ozeanen und Naturwundern gibt DAVIDOFF Männern und Frauen bereits seit 30 Jahren Stärke, Frische und Lebendigkeit. Wir haben die Erde auf der Suche nach seltenen und kraftvollen Inhaltsstoffen erkundet und einzigartige Duftkompositionen kreiert, die Ihre innere Natur bereichern. Vom legendären Cool Water bis zu unseren ikonischen Parfums – finden Sie sich selbst und wählen Sie Ihren DAVIDOFF Duft.
Wussten Sie Schon?
Davidoff Parfum – Luxus zum Riechen
Zino Davidoff betonte stets die Bedeutung vom Genuss eines jeden Augenblicks. Um dies zu ermöglichen gehört für Ihn nur das Beste vom Besten. In seinen Augen gab es noch nicht den richtigen Duft, der zu seinem Lebensstil und –gefühl passte. So entwickelte er Düfte die für intensive Lebensfreude stehen und deren Ingredienzien von höchster Qualität sind. Ein Davidoff Parfum bedeutet somit purer Luxus und soll die selbe Lebensfreude wiederspiegeln welche Unternehmensgründer Zino Davidoff mit Ihnen verband.
Davidoff Parfum: starke Düfte für starke Persönlichkeiten
Jedes Davidoff Parfum ist ein hochwertiger Duft. Feine Komposition aus perfekt aufeinander abgestimmten Duftnoten verleihen den Düften etwas ganz Besonderes und einen gewissen Charme. Davidoff Damen- und Herrendüfte strotzen vor Kraft und Selbstbewusstsein und unterstreichen so auf subtile Weise den Charakter einer starken Persönlichkeit. Die Intensität von Davidoff Düften vermittelt ein aufregendes, spannendes und pures Lebensgefühl.
Cool Water – der Klassiker von Davidoff
Das bekannteste Davidoff Parfum ist "Davidoff Cool Water". Der Duft ist mittlerweile ein wahrer Klassiker und gehört zu den meistverkauften Parfums in Deutschland. Es gibt ihn sowohl für Damen als auch für Herren. Wie der Name schon sagt, ist Davidoff Cool Water eine Wasser für coole Persönlichkeiten, also für Personen mit starkem Selbstbewusstsein, die in allen Lebenslagen einen kühlen Kopf bewahren. Und genau danach riecht Cool Water, nach Selbstbewusstsein.
Das Eau de Toilette für Herren besticht durch seinen frischen, maskulin und dennoch eleganten Duft, der durch eine aromatische Kopfnote und den spannenden Kontrast zwischen blumigen und holzigen Noten geschaffen wird.
Das Eau de Parfum Cool Water Woman ist ein spannender Mix aus fruchtigen und frischen Komponenten. Der Duft steht für die unendliche Weite des Ozeans und damit als Sinnbild für unbegrenzte Möglichkeiten. Deshalb ist das Davidoff Parfum "Cool Water" für Frauen der perfekte Duft für moderne, dynamische Frauen.
Häufig gestellte Fragen
Wofür steht Davidoff?
Davidoff steht für Freiheit pur, die Stärke und geheimnisvolle Tiefe des Ozeans als auch pure Männlichkeit. Die Davidoff Parfums Cool Water und Run Wild gibt es auch in Nuancen für die Damenwelt, die Herren profitieren zusätzlich von den Düften Adventure, Champion, Champion Energy, Horizon, Hot Water, The Brilliant Game, The Game und Zino.
Welche Produkte bietet Davidoff an?
Ein Parfum von Davidoff erhalten Sie als Eau de Parfum Spray, Eau de Toilette Spray, Shower Gel, Deodorant Stick, Deodorant Spray, Body Lotion, After Shave Balm, Hair and Body Shampoo und im Geschenkset für besondere Anlässe. Die Davidoff Parfums Cool Water und Run Wild sind dabei ebenfalls für die Damenwelt erhältlich.
Was sind die Bestseller von Davidoff?
Die Bestseller unter den Davidoff Parfums sind eindeutig Davidoff Cool Water, Run Wild For Him, Run Wild For Her, Cool Water Sea Rose Summer Edition und Davidoff Zino. Besonders der Herrenduft Cool Water verhilf dem Label zu Ruhm. Aber auch der neue Duft Run Wild, ist sowohl in der Damen- als auch der Herrenfassung beliebt.