Düfte von Atkinsons
Die Marke hat sich entwickelt aus der grossen Tradition der seit 1799 in London als Parfumeure tätig…
Mehr erfahren!
Atkinsons Düfte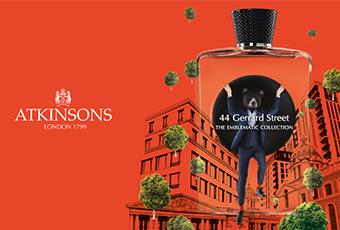 Die Marke hat sich entwickelt aus der grossen Tradition der seit 1799 in London als Parfumeure tätigen Brüder James und Edward Atkinsons, die dort durch ihr mit Rosenöl parfumiertes Bärenfett schnell bekannt wurden. Der Erfolg von J. und E. Atkinsons basiert seit jeher auf dieser ständigen Suche nach tiefen Werten. Jeder Moment der Körperpflege wird durch die wohltuenden natürlichen Zutaten der fernen Länder des Orients zu einem rituellen Augenblick der Suche nach wahrem Wohlbefinden.
Wussten Sie schon?
Atkinsons - Das Traditionsunternehmen mit dem Bären im Logo
1799 machte sich James Atkinsons vom ländlichen Cumberland auf den Weg zum schillernden London. Sein ungewöhnlicher Begleiter war ein echter Bär, außerdem hatte James Atkinsons Rezepturen für Düfte, Toiletten- und Kosmetikartikel im Gepäck. Atkinson sollte schon bald gemeinsam mit seinem Bruder Edward zu den gefragtesten Parfümeuren des Britischen Königreichs und vielleicht Europas avancieren. Somit erwies sich der brummige Begleiter als Glücksbringer und später als markantes Maskottchen und Logo-Tier. Atkinsons erster Verkaufsschlager war eine mit Rosenöl parfümierte Haarpomade, hergestellt aus Bärenfett. Bis heute, über 200 Jahre später, steht der Name Atkinsons wie kein anderer für britischen Dandyismus und zeitlose Klasse.
Vom Britischen Hof in die ganze Welt
Im 18. Jahrhundert war Atkinsons weltweiter Marktführer. Guter Duft aus dem Hause Atkinsons war in London heiß begehrt. Ladies und Gentlemen standen gleichermaßen Schlange vor dem Geschäft in der 44 Gerrard Street. Bereits 1832 wurde James Atkinson zum offiziellen Hofparfümeur und seine Kreationen traten den Siegeszug in die Adelshäuser ganz Europas an. Hochrangige Persönlichkeiten, angefangen bei Napoleon, über Prinz Tomasi di Lampedusa, bis hin zur russischen Zarin Alexandra Fjodorowna verzehrten sich nach den meisterhaften Duft-Bouquets von Atkinsons. In der Folge öffneten Geschäfte der Gebrüder auf der ganzen Welt ihre Pforten. Bis heute sind die Düfte von Atkinsons unvergleichlich luxuriös. Und es ist wohl keine Übertreibung zu behaupten, dass man mit Atkinsons, zumindest olfaktorisch gesehen, "the very essence of England" aufträgt.
Atkinsons-Kollektionen im Überblick
Tauchen Sie ein in das noble Londoner Lebensgefühl und entdecken Sie in unserer Online-Parfümerie die gesamte Duftpalette des Traditionsunternehmens mit dem Bären im Logo. Folgende Kollektionen bieten wir an:
The Oud Collection
The Legendary Collection
The Emblematic Collection
The Contemporary Collection
Home Collection
The Grooming Collection
The Oud Collection - Einfach königlich
Mit The Oud Collection entführt Atkinsons anspruchsvolle Nasen in das extravagante Lebensgefühl der 20er Jahre. Üppig und doch elegant kommen diese zwei Düfte für Queen und King daher, damit Sie sich jeden Tag ein bisschen royal fühlen. Die Basis für den geadelten Damenduft Oud Save The Queen bilden Essenzen von Bergamotte, Nelke und grünem Tee. Jasminblumen und Orangenblüten bringen zart die femininen Reize zur Geltung. Tiefe und Souveränität erlangt dieser Duft durch exotische Essenzen aus Tonkabohne, Guajakholz und Agarholz. Nicht weniger königlich tritt der Herrenduft Oud Save The King in Erscheinung. Orientalische Einflüsse aus handverlesenem Earl Grey Tee werden mit der Frische von Bergamotte vereint. Warme Edelhölzer gehen eine Verbindung mit Ledernuancen ein und verleihen dem Duft stilsicher die nötige Männlichkeit.
The Emblematic Collection - Für den modernen Dandy
Atkinsons vereint in The Emblematic Collection typisch britische Duftnuancen. Rauchiges Whiskey-Aroma gewinnt durch ländliche Wachholderessenzen und florale Einflüsse an Leichtigkeit. Der exzentrische Duft wird abgerundet mit einem Hauch von English Breakfast Tee. Diese männliche Kollektion für den modernen Dandy umfasst sowohl ein Eau de Cologne Spray für die besonderen Momente im Leben, als auch Duschgel, Luxus-Seifen und Body Lotion für jeden Tag.
The Grooming Collection - Luxus-Rasurpflege
Der gepflegte Dandy trägt natürlich Bart und ein solcher will standesgemäß gepflegt werden. Genau hierfür hat Atkinsons The Grooming Collection erfunden. Das ist Luxus-Rasurpflege, die über bloßes After-Shave weit hinaus geht.
The Legendary Collection & The Contemporary Collection - Zwischen den Zeiten
Begeben Sie sich mit diesen zwei Kollektionen von Atkinsons auf stilvolle Zeitreise. In der Legendary Collection werden traditionelle Duftkreationen von Atkinsons neu erfunden. Von sinnlich bis rauchig-würzig umfasst diese Kollektion das gesamte Spektrum der olfaktorischen Nuancen. Edle Damendüfte und extravagante Herrendüfte machen The Legendary Collection tatsächlich zur Legende.
Locker, frisch und modern gibt sich hingegen The Contemporary Collection, aber kein Stück weniger britisch! Der Duft Posh on the Green für Ihn erinnert an schottische Golfplätze und den All England Club in Wimbledon. Sportiv und männlich sorgt dieser Herrenduft für einen souveränen Auftritt. Fruchtig-würzig erstaunt der Damenduft Rose in Wonderland. Ein überraschend femininer Duft für Sie, der auch Alice im Wunderland verzaubern würde.
Atkinsons bei Parfumdreams
Düfte, die jede Nase adeln, finden Sie bei Parfumdreams. Entdecken Sie außerdem luxuriöse Pflegeprodukte und erlesene Duftkerzen in den noblen Kollektionen von Atkinsons.