Playing With The Devil von Kilian Paris
Playing With The Devil ist ein fruchtiger, animalischer Duft aus der Kollektion … Mehr erfahren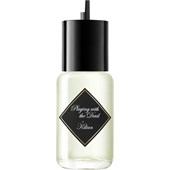 Playing With The Devil The Cellars von Kilian Paris
Playing With The Devil ist ein fruchtiger, animalischer Duft aus der Kollektion The Cellars von Kilian. Kontraste und Gegensätze bilden die Substanz dieses außergewöhnlichen Parfüms. The Cellars Düfte basieren auf verschiedenen Hölzern, von Sandelholz bis Zedernholz, von Patchouli bis Vetiver. Jeder Duft erhält eine einzigartige Note als Erinnerung an das Erbe von Kilian Hennessy. Sein Ziel war es, zu der ursprünglichen Art, wie Parfüm im späten 19. und frühen 20. Jahrhundert hergestellt wurde, zurückzukehren und gleichzeitig eine zeitgenössische Note hinzuzufügen. Playing With The Devil ist feurig und kokett. Der Duft öffnet mit einer Explosion von fruchtigen Noten. Blutorange, schwarze Johannisbeere, weißer Pfirsich und Litschi werden mit feurigem schwarzem Pfeffer aus Madagaskar und Pimentbeeren kombiniert.
Die Herznote von Playing With The Devil
erhält durch einen holzigen Akkord aus Zedernholz, Sandelholz und Patschuli eine spielerische Wendung, die von der femininen Mairose und dem indischen Sambac-Jasmin versüßt wird. In der Basis unterstreichen Zistrose, Labdanum, Tonkabohne, Benzoe und Vanille die animalische Sinnlichkeit. Die 2007 vom Franzosen Kilian Hennessy, einem Mitglied der für seinen weltberühmten Cognac bekannten Familie, gegründete Parfümmarke fördert durch ihre wiederverwendbaren, nachfüllbaren Flakons Umweltverantwortung und Nachhaltigkeit. Eine goldene Metallplatte, auf der Playing With The Devil von Hand eingraviert ist, verleiht dem Parfüm aus der Kollektion The Cellars einen zusätzlichen Hauch von Raffinesse und Luxus.