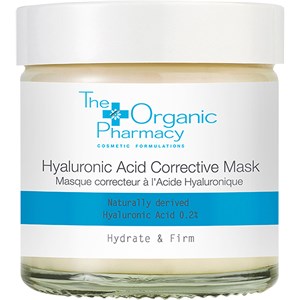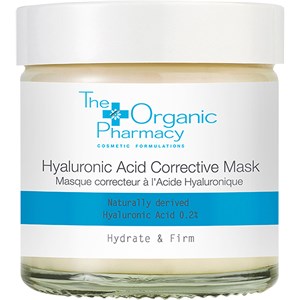 Bild vergrößern
Beschreibung von Gesichtspflege Hyaluronic Acid Corrective Mask von The Organic Pharmacy
Supralinie
: Pflege
Linie
: Gesichtspflege
Bezeichnung
: Hyaluronic Acid Corrective Mask
Mit der feuchtigkeitsspendenden und korrigierenden The Organic Pharmacy Hyaluronic Acid Corrective Mask, die 0,2 % Hyaluronsäure in drei unterschiedlichen Molekulargewichten enthält, wird die Haut im Handumdrehen mit intensiver Feuchtigkeit versorgt und gestrafft. Selbst Mimikfalten und Linien lassen sich mit dieser Gesichtspflege-Maske rasch aufpolstern. Die müde und fahle Haut wird während der Einwirkzeit zudem mit neuer Energie versorgt. Das Ergebnis ist ein strafferer, strahlender Teint ohne Falten und mit einem herrlich frischen Hautgefühl. Dank der Gel-Rezeptur ist die Hautpflege ideal für trockene und feuchtigkeitsarme Haut geeignet, lässt sich aber auf allen Hauttypen anwenden. Punkten kann die Maske außerdem mit einer 100 % natürlichen Formel ohne Inhaltsstoffe wie Farb- und Duftstoffe, Mikroplastik, Parabene, Paraffine, Silikone, Sulfate, Phthalate, PEG oder Aluminiumsalze.
Die The Organic Pharmacy Hyaluronic Acid Corrective Mask ist ganz einfach in der Anwendung:
Nach der gründlichen Gesichtsreinigung tragen Sie eine dünne Schicht der Hautpflege-Maske auf die Haut von Gesicht, Hals und Dekolleté sowie rund um die Augen auf. Die Gesichtspflege sollte 15 Minuten oder wahlweise über Nacht einwirken. Anschließend entfernen Sie das Produkt mit einem in warmem Wasser getränkten Musselintuch. Um optimale Resultate zu erzielen, empfiehlt es sich, die Maske zwei- bis dreimal pro Woche anzuwenden.
Fragen zum Produkt?
Inhaltsstoffe von Gesichtspflege Hyaluronic Acid Corrective Mask von The Organic Pharmacy
*Hamamelis Virginiana Flower Water, *Glycerin, Xanthan Gum, Carbomer, Aqua (Water), Benzyl Alcohol, Sclerotium Gum, Lecithin, Pullulan, Titanium Dioxide, Sodium Hyaluronate, Sodium Hydroxide, Mica, *Citrus Grandis Peel Oil, Dehydroacetic Acid, Silica, Limonene

* Ingredients from Organic Farming