Make The Cover For Her von Playboy
Mit Make The Cover For Her ergänzt das Label Playboy seine Damendüfte-Kollektion um ein weiteres, se…
Mehr erfahren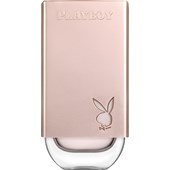 Make The Cover For Her Damendüfte von Playboy
Mit Make The Cover For Her ergänzt das Label Playboy seine Damendüfte-Kollektion um ein weiteres, sehr feminines Parfum. Der Duft begeistert als aufregende Komposition warmer Aromen und besitzt eine stark erotische Note. Dabei wirkt das Damenparfum von Playboy durchaus sympathisch und wenig aufdringlich, sodass es sich für das Tragen bei Tag ebenso gut eignet wie bei Nacht. Die Duft-Designerinnen Louise Turner und Roxanne Kirkpatrick von Givaudan konzipierten Make The Cover For Her und setzten dabei ihr modernes Verständnis von weiblicher Sinnlichkeit auf sehr gekonnte Weise um. Mit Sicherheit unterstreicht dieser Duft den Anspruch der Frau von heute, auch diesen wichtigen Aspekt ihrer Persönlichkeit selbstbestimmt und intensiv auszuleben.
Make the Cover For Her - eigenwillig, charmant und unwiderstehlich
Derartige Damendüfte verbinden in der Regel fruchtige, florale und würzige Komponenten. Dies ist auch bei diesem Parfum von Playboy der Fall: Die Herznote begeistert mit einer Komposition von Bergamotte, Ananas und Pfirsich, die Assoziationen an heiße und unbeschwerte Sommertage weckt. Die sich daran anschließende Basisnote bringt ein romantisches Bouquet ins Spiel, sie duftet nach bezaubernd nostalgischen Maiglöckchen-Essenzen, exotischem Jasmin-Sambac sowie ausdrucksstarker Rose Absolue. Schließlich entwickelt sich die intensive Basisnote, um dem Parfum Tiefe und hintergründige Erotik zu verleihen: Ambrofix, weiße Zeder und Sandelholz meistern diese Aufgabe eindrucksvoll. Insgesamt stellt Make The Cover For Her einen der Damendüfte dar, die sich sofort ins Gedächtnis einprägen und einen hohen Wiedererkennungswert haben.