Körperpflege von Transformulas
Die
moderne Transformulas Pflege
bietet anspruchsvoller Damenhaut viel Feuchtigkeit…
Mehr erfahren!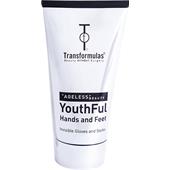 Körperpflege Pflege von Transformulas
Die moderne Transformulas Pflege bietet anspruchsvoller Damenhaut viel Feuchtigkeit. Die wertvollen Inhaltsstoffe dieser Körperpflege aus England unterstützen die Haut bei der natürlichen Regeneration. Insbesondere die Produkte Youthful Hands and Feet sowie ArmLift sind bei Damen sehr beliebt. Diese beiden Transformulas Produkte verwöhnen die zarte Haut an Händen, Füßen und Armen mit ihrer leichten Textur. Die Pflege ArmLift basiert auf einem gelartigen Serum, das bei regelmäßiger Anwendung für eine straffe Kontur der Haut sorgt. Dieses Serum ist wie ein Trainingsprogramm für die Oberarme, deren Haut wieder mit jugendlicher Spannkraft begeistert. Als Körperpflege-Produkt für die sehr dünne Haut an Händen und Füßen hat sich die feine Creme Youthful Hands and Feet bewährt. Schon bei der ersten Anwendung spüren Damen ein entspannendes Gefühl auf der stark beanspruchten Haut ihrer Hände und Füße.
Transformulas Pflege für moderne Damen
Sowohl Youthful Hands and Feet als auch ArmLift sind in handlichen, silberfarbenen Tuben mit schwarzer Schrift abgefüllt. Die beiden Körperpflege-Produkte passen in jede Handtasche und zaubern daher auch unterwegs jederzeit einen sanften Schimmer auf die Haut. Die aktuelle Transformulas Pflege für die Oberarme kann schon vor dem Sportprogramm zur Unterstützung des Muskeltrainings aufgetragen werden. Diese Creme hinterlässt einen leicht kühlenden Effekt auf der Haut, sodass Damen diese Körperpflege an heißen Sommertagen lieben. Die Youthful Hands and Feet Creme vermindert Fältchen und lässt erste Altersflecken wieder verschwinden. Außerdem baut diese Pflegecreme die natürliche Schutzbarriere der Haut, die das Eindringen von Umwelteinflüssen verhindert, mit einer Extraportion Nährstoffe auf.