In the Garden of Good and Evil Damendüfte von Kilian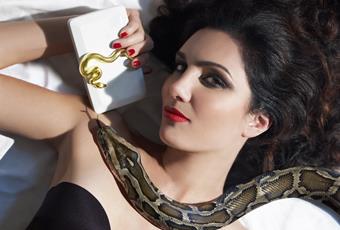 In the Garden of Good and Evil ist eine von Kilian Hennessy erschaffene Duftlinie, die verschiedene Kreationen des erfolgreichen Parfümeurs in sich vereint und diese entweder einzeln oder in Geschenksets beziehungsweise über Nachfüllungen präsentiert. Insgesamt befinden sich in der "In the Garden of Good and Evil" Linie drei verschiedene Düfte, die sich "Playing With the Devil", "Forbidden Games" und "Good Girl Gone Bad" benennen. Die erfolgreichen Damendüfte haben allesamt ein Motiv, welches in jedem der Duftakkorde eindrucksvoll vorschimmert: Liebe, Lust und Romantik
Die elegante Verführung auf der Haut
Das Parfum aus dem Hause Kilian Hennessy ist bekannt für seine hohen Qualitätsstandards, weshalb der Parfümeur auch zu internationalem Weltruhm gelangen konnte. Die Marke zählt mittlerweile als einer der Spitzenreiter im gehobenen Luxussegment, wobei bei allen Düften der "In the Garden of Good and Evil" Linie auch sehr rare und wertvolle Essenzen verarbeitet werden. So erhalten die Damendüfte von Kilian Hennessy ihr besonderes Duftbild, was auf dem ganzen Planeten als absolut unverkennbar und einzigartig gilt. Für alle Frauen, die Luxus auf der Haut schätzen, eine ideale Wahl.
Wussten Sie schon?
Kilian – einzigartige Düfte fürs Leben
Kilian Hennessy reiht sich in die Serie von erfolgreichen Cognac-Herstellern seiner Familie ein. Im Jahre 2007 geht der Emporkömmling eigene Wege, indem er die nach ihm benannte Luxusmarke Kilian ins Leben ruft. Die Marke ist nicht nur Ausdruck seines einzigartigen Charakters, sondern zeugt auch von einer perfekten Allianz zwischen Eleganz und Luxus. 2015 hat Kilian bereits 5 Duftkollektionen mit insgesamt 37 Düften herausgebracht. Entdecken Sie jetzt die Kilian In the Garden of Good and Evil Damendüfte in unserer Online-Parfümerie. Kilians Philosophie möchte seinen anspruchsvollen Kunden nachhaltigen "Ökoluxus" bieten. Daher kann jeder Parfumflakon wiederbefüllt werden und ist, wenn man möchte, eine Anschaffung fürs Leben. Lassen Sie sich von der Perfektion und dem zeitlosen Luxus dieser Düfte verzaubern.
Kilian In the Garden of Good and Evil – Damendüfte, die Liebe, Versuchung und Romantik versprühen
Die Duftkollektion Kilian In the Garden of Good and Evil betört die Sinne mit insgesamt vier einzigartigen Parfums:
In the city of Sin
Good girl gone Bad
Forbidden Games
Playing with the Devil
Die Düfte aus dem Hause Kilian Hennessy zählen mittlerweile zu den Favoriten im gehobenen Luxussegment. Exquisite Essenzen und rare Duftnoten machen die Kilian In the Garden of Good and Evil Damendüfte zu einem luxuriösen, olfaktorischen Erlebnis, das Sünde wert ist. Die unvergleichlichen Düfte haben einen hohen Wiedererkennungswert und werden all jene Damen begeistern, die puren Luxus auf der Haut schätzen. Lassen Sie sich von den Kilian In the Garden of Good and Evil Damendüften verführen!
In the city of Sin – fruchtige Frische, die eine Sünde wert ist
In the city of Sin ist ein Eau de Parfum, das danach strebt, neue Duftwelten zu erschaffen. Die sündhaft frisch-fruchtige Kopfnote wird von einem Hauch Bergamotte, würzigem Kardamom und rosa Pfeffer gebildet, die den Auftakt machen. Essenzen von türkischer Rose, Weihrauch, Pflaume und Aprikose geben dem Duft seine aromatisch anziehende Fülle. Kostbare Edelhölzer runden den exquisiten Duft würzig warm ab.
Good girl gone Bad – opulente Verführung
Wie die anderen Kilian In the Garden of Good and Evil Damendüfte ist auch Good girl gone Bad von edlem und geheimnisvollem Charakter. Den Auftakt machen florale Noten von Jasmin, Osmanthus und Mairose. Der opulente und dennoch unaufdringliche Duft setzt mit Narzisse und Tuberose zum Höhepunkt an. Würzige Aromen aus Amber und Zedernholz vollenden diesen verführerischen Duft.
Forbidden Games – verboten gut und überraschend fruchtig
Verboten gut macht der fruchtig süße Duft Forbidden Games den Auftakt mit einem Obstkorb aus Apfel, Pfirsich und Pflaume. Zimt verleiht der Kopfnote das gewisse Etwas. Der verführerische Duft überrascht im Herzen mit einem Bukett aus Jasmin, Rose und Geranie. Das feminine, süße Finish entsteht durch Bourbon Vanille, Honig und Opoponax in der Basis. Dadurch wird Forbidden Games zum treuen Alltagsbegleiter, der Weiblichkeit, Stil und Eleganz versprüht.
Playing with the Devil – frech und apart
Das Spiel mit dem Teufel ist mindestens genauso gefährlich wie das Spiel mit dem Feuer. Der Damenduft Playing with the Devil kommt verwegen und fast ein bisschen frech daher. Sonnenverwöhnte Früchte, wie Litschi und Blutorange eröffnen den reizvollen Duft. Im Herzen dominieren Jasminblüten und die Königin der Blumen – die Rose. Piment und Pfeffer akzentuieren das florale Bukett. Der extravagante Duft steht auf einer breiten Basis aus warmen Edelhölzern, zu denen sich die Süße von Vanille und Tonkabohne gesellt. Der aparte Duft ist die perfekte Wahl für alle Damen, die ihre Weiblichkeit und ihren Eigensinn unterstreichen möchten.
Entdecken Sie eine neue Klasse der Verführung mit den Kilian In the Garden of Good and Evil Damendüften. Parfumdreams liefert Ihnen die exklusiven Duftkreationen direkt nach Hause – im edlen Flakon oder als umweltfreundliches Nachfüllset. Tipp: Für die kleinen und großen Abenteuer des Alltags finden Sie das Eau de Parfum Travel Spray Voulez-Vous Coucher Avec Moi von Kilian im handlichen Mini-Format in unserer Online-Parfümerie.