The British Bouquet The Legendary Collection von Atkinsons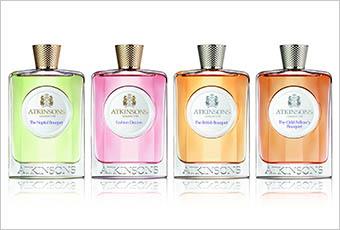 Das Parfum The British Bouquet stammt aus der Serie ""The Legendary Collection"" der Marke Atkinsons. Das Parfum überzeugt durch seinen zitrischen Charakter, der sich sanft um den Körper seines Trägers legt. Der Duft eignet sich sowohl für Männer als auch für Frauen und kann in jeder Situation getragen werden: Egal ob im Beruf oder in der Freizeit.
Ein sinnlicher Duft mit edlem Charakter
The British Bouquet ist ein Duft für jede Lebenslage. Der aromatische Charakter des Duftes wird von Bitterorange, Lavendel und Zitrone gebildet. Mit Kaviar, Myrthe und Zitrusfrüchten wird für viel Abwechslung gesorgt. Lassen Sie sich von einem eleganten und stilvollen Duft umhüllen, der Ihnen in jeder Lebenslage zur Seite stehen wird!
The British Bouquet von Atkinsons