Lavender on the Rocks The Contemporary Collection von Atkinsons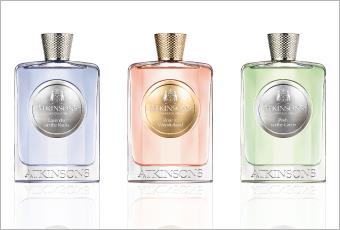 Das Parfum Lavender on the Rocks aus der avantgardistischen The Contemporary Collection der Marke Atkinsons verkörpert absolutes Stilgefühl und britische Exzentrik aus zwei Jahrhunderten. Die Neuauflage des Klassikers Lavender on the Rocks, der schon 1799 das englische Königshaus eroberte, zeigt sich dabei unwiderstehlicher und gewagter denn je. Vor allem die Auslegung archetypischer Duftstrukturen und Ingredienzien bringt eine radikale und ausgesprochen komplexe Version bekannter Duftbestandteile hervor.



Verwirrend und extrem belebend gleichermaßen


Aromatisch würzige Noten von Basilikum und Geranium eröffnen diesen eisgekühlten Cocktail und hinterlassen einen intensiven ersten Eindruck, der gefolgt von klarer Lavendelessenz, honigummanteltem Lavendel-Absolue und verspielter Rose mitten ins Herz trifft. Letztendlich überrascht ein cremiger Hauch von Guajakholz gemischt mit holzig-warmen Oud-Ambitionen die prickelnde Kühle. Das wie ein verführerischer Long Drink kreierte Eau de Parfum aus der Reihe The Contemporary Collection von Atkinsons zeigt sich damit voller elektrisierender Kontraste, die sich in seinem britischen Charme vereinen.

Wie eine edle Spirituose verfügt das Parfum über eine doppelte Destillation puren Lavendels und behält dennoch auf ganz besondere Weise das zarte Wesen der Lavendelpflanze bei, das jeden Körper charismatisch einzuhüllen weiß. Der warme Duft von Adlerholz, auch als Oud bezeichnet, betört dabei auf unnachahmliche Weise die Ausstrahlung des Lavendels, der schon in der Antike für edle Parfums verwendet wurde.

Damit reiht sich Lavender on the Rocks zu Recht in die großartige The Contemporary Collection von Atkinsons ein, der auch Rose in Wonderland und Posh on the Green angehören. Ein wahrliches Feuerwerk der englischen Parfümeurkunst, das von außergewöhnlicher Präsenz und Exklusivität durchdrungen wird.

Lavender on the Rocks von Atkinsons